The recipe Beef with Iberian pork, green beans, sweet potato and blueberries provides two sources of high quality protein for both puppies and adult dogs. Thanks to the Iberian pork, rich in riboflavin, thiamine and glutamine, this food provides great cardiovascular benefits. In addition, this meat contains natural chondroprotectors such as glucosamine, very beneficial ingredients for the joints of growing puppies that promote hydration of the articular cartilage. Beef, rich in potassium and zinc and low in sugars, provides high palatability.
Benefits of the ingredients used:
Green Beans:
Contain lots of vitamin C, are good for the immune system and help regulate intestinal transit.
Sweet potato:
Rich in bitamine E and low in fat. Helps fight cell aging. It cares for hair and skin and provides potassium and iron.
Blueberries:
Rich in vitamin K and C, and magnesium. They have antioxidant properties. They are low in calories and high in fiber.
INGREDIENTS
Beef (26 %), Pork (20 %, of which 4 % Iberian pork heart), Salmon oil (2 %), Green beans (2 %), Sweet potato (4 % from dehydrated), Mineral substances and Blueberries (2 % from dehydrated).
NUTRITIONAL ANALYSIS
Crude protein (6.4 %), Fiber (1 %), Fat (8.4 %), Ash (1.7 %) and Moisture (79 %).
Metabolizable energy: 1059 kcal/kg.
Recipe formulated WITHOUT CEREALS, LACTOSE, COLORINGS, ARTIFICIAL FLAVORINGS AND ARTIFICIAL PRESERVATIVES.
FOOD GUIDE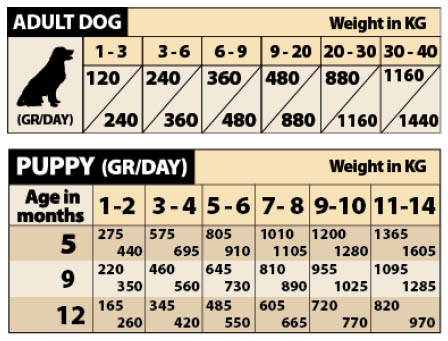 *Indicative feeding guide
Main ingredient

Beef
Pork

Specific requirements

Grain free

Age

Adult
Puppy
16 other products in the same category: